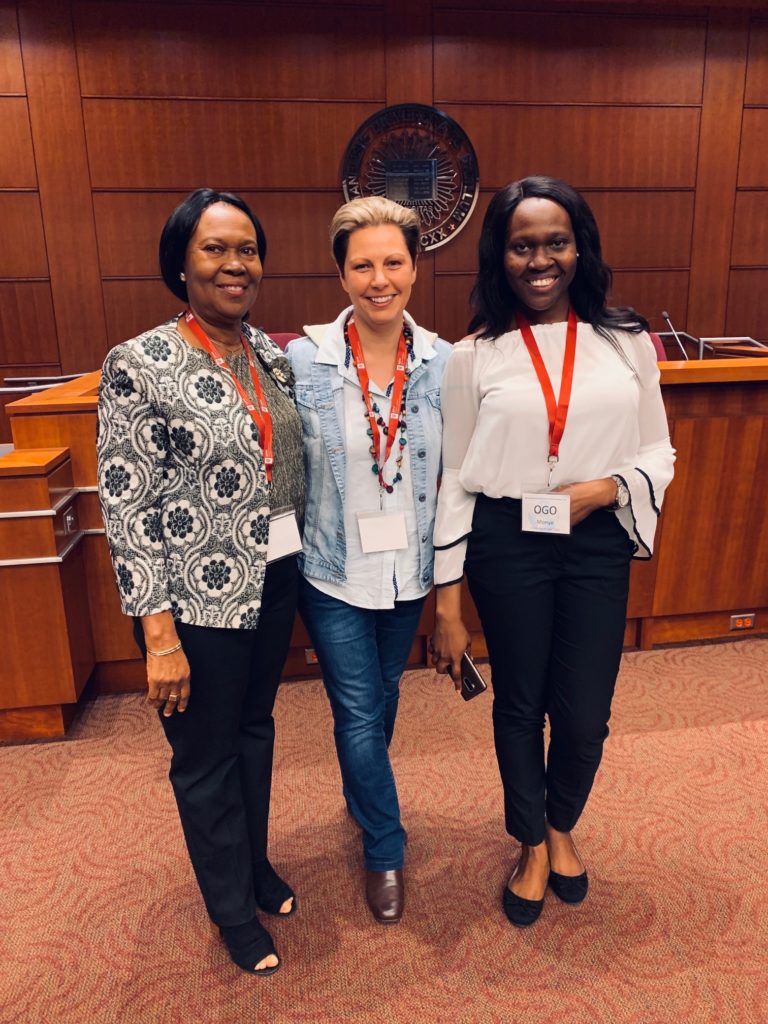 Identification Management in Nigeria: Innovations for Financial Inclusion
Ms Ogochukwu (Ogo) Monye, a law lecturer at the University of Benin, Nigeria and a doctoral candidate at the University of Cape Town, South Africa was awarded the 2019 Udo Reifner Prize for the best abstract by a young doctoral scholar for her paper titled "Identification Management in Nigeria: Innovations for Financial Inclusion," which discussed the important issue of lack of documentation that impedes numerous Nigerians from accessing financial services. The abstract of her paper follows below:
In Nigeria, about 41.6 percent of the population of the country lacks access to formal financial services according to the Central Bank of Nigeria. Studies have shown that apart from factors such as distance to banks, financial illiteracy, irregular income, unemployment and complexity of account opening; lack of proof of identity documentation debars a significant number of persons from accessing finance. This paper seeks to address the last issue as a significant factor of financial exclusion in order to help citizens more easily fulfil mandatory Know-Your-Customer (KYC) checks as well as facilitate access to additional financial products including loans, pension and insurance. Significantly, this is in line with goal 16.9 of the United Nations Sustainable Development Goals (SDG) which envisions a legal identity for all by the year 2030. Notably, the National Identification Management Commission (NIMC) was established since 2007 to oversee all matters of citizens' registration. So far, the commission has only succeeded in registering about 30 million Nigerians out of the total national population of approximately 198 million. The doctrinal method of research is employed as mostly legal literature and regulatory guidelines and policies are utilised. Furthermore, the author will draw examples from the regulatory landscape of other jurisdictions such as Pakistan, Peru and Uganda where positive strides have been achieved in the sphere of national registration. In Pakistan for instance, 98 per cent of the target population has been captured in the national identification programme including socially disadvantaged groups aided by a wide array of mobile registration agents comprising hikers, van drivers, mountaineers, bikers and skiers to locate citizens even in the most remote locations. Similarly, Uganda has attained 99 percent registration even though the programme was only commenced in the year 2014. The author proposes a self-sustaining universal national identification system that provides Nigerians with the needed foundational identity to access financial services with a view to achieving financial inclusion. The paper proposes an efficient national identification system that is cost-effective, inclusive and recognises the unique socio-cultural and demographic characteristics of Nigeria. The shortcomings of the existing identification system such as funding strategies, mode of registration and logistics management are highlighted. The paper proposes more effective means to reach excluded populations through an efficient national identification system founded on new and existing technology including biometrics, blockchain and the Internet of Things. The paper is expected to contribute to the growing body of literature on improving national identification and the global conversation on financial inclusion bolstered on an effective national identification system. Furthermore, the recommendations are intended to foster socially inclusive gains in several other sectors including agriculture, health and social security. Finally, even though this work is specifically focused on Nigeria, the findings offer veritable lessons for other nations grappling with financial exclusion by reason of inadequate or unsuitable identification systems.